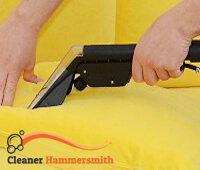 Let us introduce you to our company – Cleaner Hammersmith. We are experts at upholstery cleaning in W6. We are dedicated, hard-working, meticulous and ready to do anything to give your upholstered furniture a good clean.
We have flexible hours, which means we are available Monday through Sunday. The best aspect is that you may have your service performed on any day of the week. We are always eager to assist others.
If you are interested, our company will handle everything for you. Please contact us immediately.
Carpet, Sofa and Upholstery Cleaning
Prices
Landing Carpet

from £

4

Bedroom Carpet

from £

23

Livingroom Carpet

from £

25

Sofa – Two Seat

from £

45

Upholstered Armchair

from £

25
Minimum call out charge £55.
Professional Upholstery Cleaning in Hammersmith, London
You will be fascinated by our amazing upholstery cleaning service in Hammersmith. We have professional equipment, we are well-trained, and we have vast experience in this business.
Check this out:
You can receive a no-obligation quote
Our service is available 7 days a week
We are knowledgeable
We are insured and vetted
Let us explain how we clean upholstered furniture in greater detail. We've been in business long enough to realise that every piece of furniture is unique and requires a unique approach.
Our call centre is available 7 days a week and the agents there will be more than happy to provide you with additional information, answer your questions and guide you through the booking process.
Affordable Upholstery Cleaning Services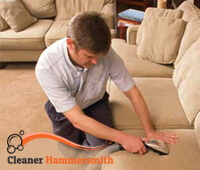 We are aware that every stain needs different kind of treatment and that not all products work in every situation. We have amassed knowledge about upholstery cleaning and we have also experimented with various products and solutions.
We have a lot of cleaning materials, and we instruct each cleaner on how and when to use them. We believe it is critical that all cleaners are experts so that we can provide consistent quality no matter which cleaning crew we send to your house. Our cleaning methods are tried-and-true but we also utilise modern techniques to clean upholstered furniture that are not toxic. They provide further protection for your furniture so that you can enjoy it longer. Usually, a cleaning session lasts a few hours.
Cleaners Hammersmith's Upholstery Cleaning Process
Our skilled upholstery cleaners in Hammersmith perform a thorough multi-dimensional procedure to ensure that every fibre of your furniture is not just cleaned but actually revitalised, ensuring its colours shine with life and structural integrity.
Sculpting Inspection: The thorough inspection of the upholstery will help select the most suitable cleaning method and solutions.
Artistic Strategy: We will select the most suitable cleaning technique that will result in complete removal of dust, grime and stains.
Preliminary Treating: The stains on your upholstery will be treated with special solutions that will help dissolve them.
Deep, Thoughtful Cleanse: With the powerful cleaning machines, our expert cleaners will thoroughly disinfect the surface, removing all signs of dirt and impurities.
The final touch: We will carefully inspect the fabric, then deodorize it to make sure it smells as fresh as it looks.
We are dedicated and we have an eye for the detail. We take our time and remain as long as we need to. When we're finished, your furniture will smell great and be free of stains and filth. We will work according to your instructions.
Тhe best care for Your Upholstery by Cleaner Hammersmith
Cleaner Hammersmith has been delivering professional cleaning services for years and managed to win its reputation as one of the best companies in the area. Reach out whenever your upholstery needs deep cleaning. We will deep clean the upholstery, making it good-looking, fresh and disinfected. This will significantly improve the overall look of your entire property.
Bring out the best look of Your Upholstery
Your entire house will seem brighter and more welcoming when your upholstery has been freshly cleaned. Furthermore, your home's air quality will improve, allowing you and your family to spend more time together. Your furniture will be more visually appealing and survive longer. You will not be sorry if you choose us for upholstery cleaning.
Benefits of Choosing our Upholstery Cleaning Service in W6
The entire service you receive from us will be perfectly tailored to all your needs – the entire process will be specially selected and all cleaning products, tools and methods will be selected to suit the materials and fabrics of your upholstered furniture. Choosing Cleaner Hammersmith will take on a journey of upholstery cleanlines:
Simple Booking: From start to finish, our booking system for upholstery cleaning in Hammersmith provides a relaxing experience. Ethical and Transparent Pricing: There are no hidden fees, only straightforward pricing and outstanding service throughout.
Experienced Team: The local cleaners we work with are experienced, skilled and knowledgeable.
Eco-Conscious: We prioritise the wellbeing of our customers and only use eco-friendly, biodegradable and non-toxic cleaning products that are safe for you and your family members.
Client Satisfaction: We always work for the satisfaction of our clients. We will make sure that the service is done to your expectations and preferences.
Your Hammersmith property will look so much better, brighter and more welcoming with the professional upholstery cleaning delivered by Cleaner Hammersmith. Join our company and become one of the many happy customers we have.
Trust us with the cleaning of your upholstery – we will not disappoint you. We are accessible throughout the week and will be delighted to provide you with outstanding cleaning results.
FAQs
What is the recommended frequency for professional upholstery cleaning?
A professional cleaning service guarantees that your furniture retains its vibrancy and lifespan when it is performed once every 12-24 months.
Is the cleansing safe for our pets and children?
Absolutely, we use cleaning solutions that contain zero toxic chemicals and are absolutely harmless to you or your loved ones.
How long until the upholstery dries completely?
Most upholstery pieces require anywhere between 3 to 6 hours. Keep in mind that the drying time may vary depending on the fabric and materials.
Is your cleaning service available across the entire Hammersmith area?
Yes, we offer professional cleaning services throughout the area. An available team will arrive at your place at the most convenient time and date.