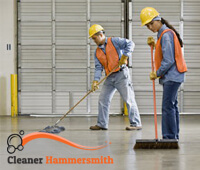 You can leave the hard and exhausting cleaning after the refurbishing and decorating of your property to the professionals in our company. Our cleaning technicians are supplied with powerful and advanced machines, tools, preparations and effective solutions to remove stubborn stains, plaster and cement residue.
They carry out thorough and effective sanitising of living areas, lofts, basements, bathrooms and kitchens. We can clean the patio and external areas of your estate if you need it washed and cleaned of the construction waste.
Our workmen will remove the excess building leftovers and materials and ensure the spotless condition of your property. Use our after builders cleaning services, available in and around Hammersmith at affordable rates.
After Builders Cleaning
Prices
After Builders Cleaning

£

23/h
Booking a Builders Clean with Cleaner Hammersmith
If you are interested in one of our cleaning services, all you need to do is complete the few simple steps mentioned below. We offer a simple and easy booking process. Here is how to do that:
Step 1: Make your choice – Go through the list of cleaning services we offer and select the one that suits your needs best. If you find it hard to choose, let us know about your situation – we will be able to assist you in making the best choice.
Step 2: Customize Your Service – Customise the cleaning service to your personal needs and requirements. We will make sure everything is delivered with excellence and up to your expectations.
Step 3: Schedule & Confirm – Select the most convenient time and date for your appointment and confirm your booking.
Step 4: Receive amazing cleaning results – Once the cleaning service has been completed, inspect the entire property and see the final results by yourself. You will be the final judge of everything and your satisfaction is our priority.
Effective After Builders Cleaning
Our staff carry out professional cleaning of houses, flats, offices, basements, lofts and other estates which have been refurbishes, redecorated, painted or improved in some way. We guarantee you:
Thoroughly cleaned rooms
The use of powerful and high-grade machines and equipment
Dusting of furniture and appliances
Pressure washing of tiles and patios
Washing and sanitising bathroom areas
We can spare you the time and efforts spent in dusting, hoovering, washing and wiping walls, ceilings, tiles, bathroom appliances, fixtures and cooking areas.
Affordable After Builders Cleaning Services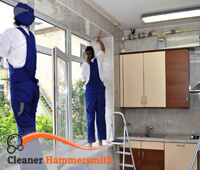 The work of our cleaners includes mopping and scrubbing hard floors, washing tiles and chrome surfaces, wiping clean doors, windows, walls and ceilings using suitable detergents.
They gather and remove the excess materials and leftovers from the building and decorating work, remove splashes and stains from paint, latex, cement and plaster. We offer effective and inexpensive after builders cleaning in W6 which will ensure the healthy and habitable condition of your property.
In case you need assistance with the removing of the debris, stains, plaster, cement and leftovers from the renovation, repairs or building work which you have had in your home or business estate, contact us.
We can send as many workmen as necessary to your address to carry out the after builders cleaning you need in Hammersmith, W6 or anywhere nearby. You will receive first-class services.
The Best After Builders Cleaning Technicians local to Hammersmith W6
With Cleaner Hammersmith, you can enter a world where precise after builders cleaning in Hammersmith W6 smoothly transforms your project from a shell of building detritus to an immaculate, ready-to-inhabit area.
Precision in Every Aspect: After Builders Cleaning Delivered by the professionals of Cleaner Hammersmith
After any type of renovations, your property will need a thorough cleaning. Join Cleaner Hammersmith, where the essence of meticulous, thorough, and accurate after builders cleaning takes place through a thorough and detailed cleaning procedure designed particularly for Hammersmith W6 homeowners.
Comprehensive Builders Cleaning in W6
Step 1: Initial Inspection – Depending on the surfaces and materials of your home. That will help us tailor the entire service to your specific needs.
Step 2: Debris Removal – Construction waste and debris may cause harm to your health. Our professionals will dispose of all of them.
Step 3: Detailed Dusting & Vacuuming – To ensure that all your surfaces are clean, the cleaning experts will remove all dust and vacuum clean all floors.
Step 4: Scrubbing & Polishing – By thoroughly wiping down and polishing all furniture and other surfaces, revealing their natural beautiful looks.
FAQs for After Builders Cleaning in Hammersmith W6
What distinguishes your after builders cleaning from others?
Our specialised methodology combines precise, conventional cleaning practices with cutting-edge approaches to provide a careful, detailed, and timely transformation for your area.
Is your service tailored for different construction materials and finishes?
Yes, our thorough first inspection guarantees that our cleaning procedures and supplies are properly matched to each individual surface and residue found.
Can your services be availed of in emergencies or on short notice?
Yes, our company offers easy booking, allowing us to provide speedy, efficient, and comprehensive post-construction cleaning even on short notice.
How do you ensure safety during the cleaning process?
Through a controlled methodology that guarantees all residues, debris, and possible risks are thoroughly treated while maintaining surface protection and cleanliness.
Looking for local after builders cleaning in Hammersmith?
Cleaner Hammersmith is at the top of outstanding, detailed, and significant after builders cleaning in Hammersmith W6, offering a service that is intricately tailored, ensuring each cleaned space is not merely beautiful but a pure, welcoming, ready-to-inhabit disinfected space. Reach out to us and receive a service where every clean is a transforming experience, guaranteeing every project ends with a beautiful, polished presentation that is true to the idea of your dream home in Hammersmith W6.
Traditional cleaning methods and innovative tools and products will blend together and help us achieve the highest quality results in the industry.
Our cleaning techniques will remove all allergens and harmful dust that may be hazardous to your health. The entire property will be immaculate, clean and safe for you.