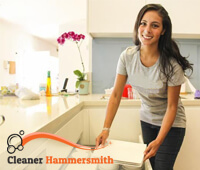 Cleaning your rental property when your tenancy contract is over is a big issue. It is important to ensure that the premises are back to their pristine condition for the new occupants. If you need help with this step of your house move, we suggest you get in touch with our company.
We will provide the best end of tenancy cleaning services, available in Hammersmith W6. Our cleaning system is first-class, our equipment is powerful and our costs are affordable. We have a flexible schedule.
You can make an appointment in just a few minutes using our contact number. You can also send us an email. We can't wait to hear from you.
End Of Tenancy Cleaning
Prices
Studio Flat

from £

89

One Bedroom Flat

from £

145

Two Bedroom Flat

from £

165

Three Bedroom Flat

from £

189
Highly Effective End Of Tenancy Cleaning Hammersmith, London
Our end of tenancy cleaning packages in Hammersmith W6 are highly effective. We are careful, professional and detail-oriented. You will be delighted. Make sure to get in touch with us whenever you can.
What we do:
Polish fixtures, floors and wood surfaces
Sanitise door handles, lights switches and other commonly touched areas
Clean kitchen appliances inside out
Remove limescale, mildew, dust and build-up
Vacuum all around
Clean shower, sink, toilet and tiles
Clean wardrobes, cupboards, worktops and cabinets inside and out
"Awesome! Your services were just the one for me. You fir perfectly to my schedule, charged me at modest rates, provided me with immaculate cleanliness and my landlord was impressed. You even provided me with a guarantee about your job and you kept your promises. You saved me a lot of troubles with the mess in my previous flat! – Martin"
We are experts at removing stains. We can get rid of the nastiest stains in your property. We target high traffic areas, such as your living room, carpets and floors, the kitchen and bathroom.
Professional End Of Tenancy Cleaners in Hammersmith W6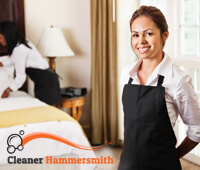 In addition, we de-scale bathroom surfaces, tiles and sinks. Every property has those hard-to-reach and difficult to clean areas like behind the toilet, under the couch, between the bed and the wall, etc.
Our job is to clean and sanitise every nook and cranny, no matter where or how hard to reach it is. We are armed with effective cleaning products and we are very careful. Not to mention, we are experienced professionals. To us it is important to satisfy every need. We have desire for work and we think you should let us handle your end of tenancy cleaning in Hammersmith, W6.
We will be honoured to give you a helping hand. Dial our contact number today.
Stressless End of Tenancy Cleaning Service London
The thorough cleaning service we provide will ensure that you have a stress-free experience and enough time to organise your new home. Additionally, you will be able to restore the property to its rightful owner in a flawless condition.
Precise Pre-Cleaning Consultation: A detailed discussion will help us deliver a tailored cleaning service, suited to your needs.
Meticulous Cleaning Process: Our local cleaning experts will thoroughly clean, scrub and disinfect every surface and hidden corner at your property.
Rigorous Final Inspection: To make sure that everything is completed, we will carefully inspect the property at the end of the service.
Your Final Seal of Approval: We will also ask you to perform a thorough inspection once the service is completed. The cleaning service will be considered finished only after you are completely satisfied.
Cleaner Hammersmith's End of Tenancy Cleaning Service
Transitioning between houses may be a difficult and stressful process, but at Cleaner Hammersmith, we make sure that your end of tenancy cleaning goes well. We promise not a simple cleaning service, but a brilliant departure, allowing you to begin your new life as we clean and disinfect your former home.
The Best End of Tenancy Cleaning in Hammersmith W6
Our reputation as the best end of tenancy cleaners in Hammersmith W6 is built on dependability, precision, and an unrelenting commitment to providing client satisfaction. Our tailored cleaning services, expertly created for Hammersmith residents, have helped many of our customers have a smooth transition, ensuring a great tenant-landlord relationships.
Choose Cleaner Hammersmith – Spotlessly Cleaning Service in W6
Unparalleled Expertise: With many years on the market, we have managed to win our spot as one of the best cleaning service providers in the industry.
Tailor-Made Cleaning Solutions: The cleaning service you book with our company will be perfectly tailored to your needs and preferences. You will receive exactly what you need.
Environmentally Compassionate: We strictly utilise cleaning tools and products that are non-toxic, eco-friendly, biodegradable and safe for you and your family members.
Easy Booking Process
Assuring that your property is immaculate at the end of your tenancy should be simple and easy, and Cleaner Hammersmith will help you achieve that. Visit our website, select your service, and select an appropriate time frame. Once you do that, consider the professional end of tenancy cleaning service we offer scheduled!
Immaculate property at End of Tenancy with Cleaner Hammersmith
Join Cleaner Hammersmith and enjoy dependability and competence in Hammersmith W6. Leave the cleaning to our experienced local cleaners. Let your tenancy end on a bright note, reflecting our careful and customer-focused services that ensure every surface is immaculate, showing our professional cleaning approach.
Allow every transition from one life chapter to the next to be accompanied by the tranquil overtones of ease and contentment, free of cleaning worries. Allow our Hammersmith W6 end of tenancy cleaners to handle the complicated task as you embark on your new journey in peace and confidence.
Reach out to Cleaner Hammersmith and make sure the entire property you are leaving is disinfected, polished and ready for your new tenants. We guarantee the satisfaction of your landlord.
FAQs
Is your end of tenancy cleaning service in Hammersmith insured?
Yes, all services delivered by us are insured. We offer quality guarantee and will make sure that nothing has been overlooked throughout the process.
What if my landlord isn't pleased with the cleaning?
If there is anything wrong with the cleaning service, we will send back a team of cleaners that will make sure the issue has been removed. You will not be charged for this additional cleaning task.
Can Cleaner Hammersmith accommodate emergency end of tenancy cleaning?
Yes, if you need a last-minute cleaning appointment, let us know. Our cleaning teams are available 7 days a week and we will be more than happy to deliver a high-quality service to you.